Olbia is an idyllic vacation getaway located in the Northern region of Sardinia, one of the largest islands of the Mediterranean sea. With an Olbia dayboat route, you can explore the magical blue waters of the Western Mediterranean, frolic in the endless white-sand beaches, and take a deep-dive into the region's history.
Rent a boat in Olbia starting around the main port area, and set off on this sun-and-sand-filled Italian adventure.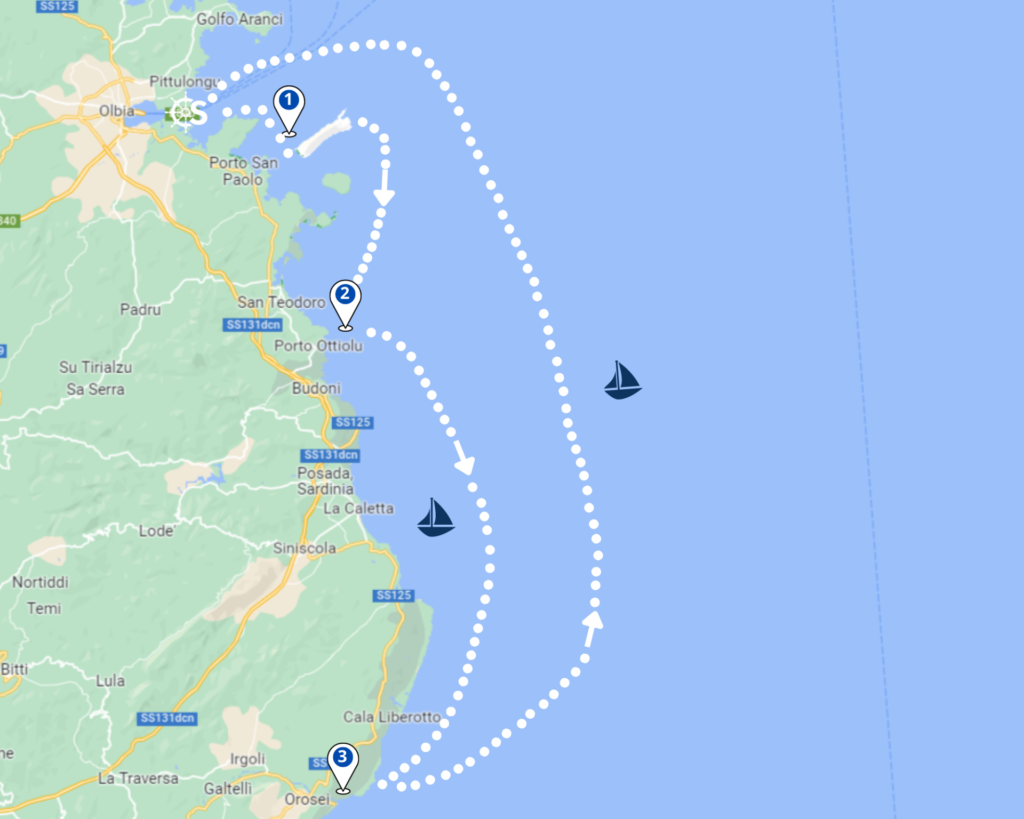 Olbia → Tavolara Island
10.7 nautical miles, 42 minutes of navigation
Not too far from Olbia and mainland Sardinia is Tavolara Island, part of the larger Protected Marine Area of Tavolara. This is a nature reserve in the Tyrrhenian Sea which also consists of the islands of Molara and Molarotto, and has an abundance of protected flora and fauna.
Isola Tavolara itself is quite a marvel with its peak of Punta Cannone, which rises 565 metres above sea level. It is accessible by hiking and offers sweeping views of Molara island and surrounding waters. Should you be averse to the hike, an entire world awaits underwater, as this is also a popular diving spot owing to the unique marine-life to be found here.
Tavolara → San Teodoro
8.1 nautical miles, 32 minutes 
From Tavolara, head on over to San Teodoro, a charming Sardinian village filled with beach areas worth exploring. Not to be missed is Spiaggia La Cinta, which at 3.2 kilometres, is one of the longest beaches in the northern region of Sardinia. Laze around the beach, or take part in the activities on offer such as snorkelling, paddling, or horseback riding. Additionally, this beach offers one of the best kitesurfing areas in Sardinia. Another beach area worth exploring in San Teodoro is Cala Brandinchi beach, whose tropical waters are reminiscent of Tahiti.
San Teodoro → Orosei
24.4 nautical miles, 1.5 hours of sailing 
Further South on this Olbia dayboat route is the Orosei region of Sardinia, an area on the East Coast of Sardinia famed for its largely untouched natural formations. Orosei is home to Gennargentu National Park, which apart from varied wildlife species, has the highest mountain in Sardinia, Punta La Marmora.
For a more relaxed experience, a beach worth exploring in Orosei is Cala Liberotto, perfect for windsurfing, and also well known for its exciting nightlife. Head back to Olbia, where your dayboat trip in this Italian paradise will come to an end.
Should you have more time on your hands, check out this 4 day Sardinia itinerary, and fully immerse yourself in this magical region.