Greece is one of the most popular holiday destinations in the world. It's not surprising as the country is rich in stunning islands, beautiful natural landscapes and breathtaking sights. Unfortunately, it's impossible to visit all the places in Greece in one holiday, so it's good to know which places are must sees.
Moreover, Greece is also a perfect destination for a sailing holiday. There are overwhelming amount of stunning places that you can explore by boat. Furthermore, you can create adventurous itineraries with plenty of beautiful stopovers around different islands.
If you decide to rent a boat for your next holday, here is a list of 6 of the most wonderful places to visit in Greece.
Athens
Athens is the capital city of Greece located in the Attica region. The city is rich in historical culture, ancient monuments and breathtaking sites to visit. We definitely recommend wandering around the city to experience its lively atmosphere before you set sail. For instance, it offers many activities, amazing local cuisine to try out and wonderful ancient architecture.
Moreover, Athens has some excellent ports with plenty of available boats, and an international airport that make it easy to reach the city. This makes Athens an excellent starting point for your sailing holiday.
Cyclades Islands
The Cyclades is one of the most popular holiday destinations in Greece. This archipelago consists of around 200 islands, most which are uninhabited. The Cyclades archipelago is located southeast to the mainland in the Aegean Sea. Each island offers something unique and authentic for all types of travellers.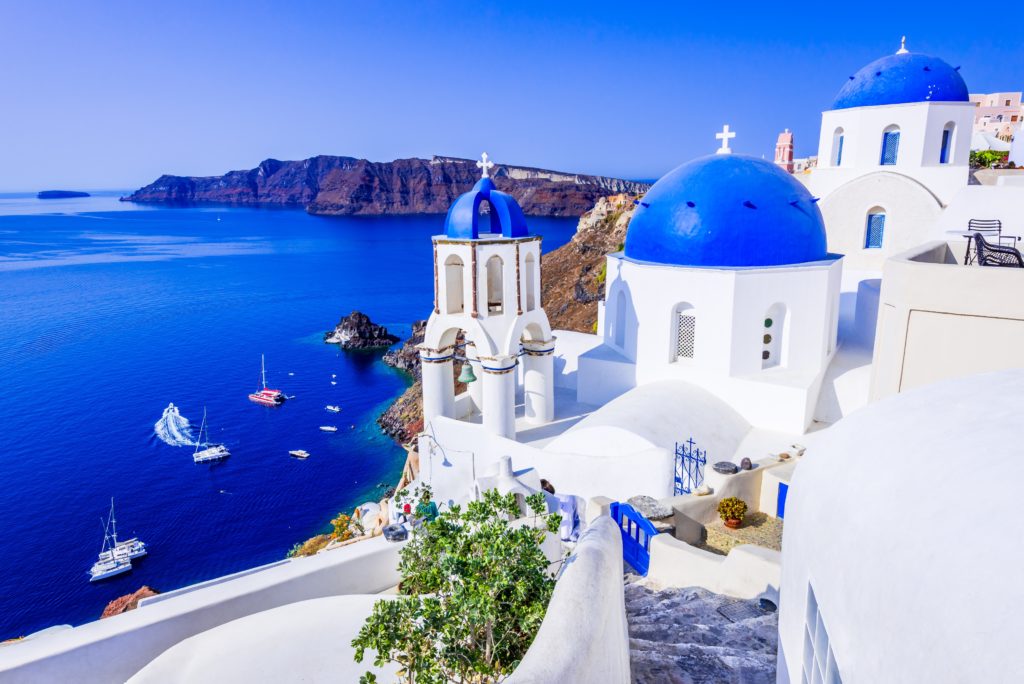 Visit places such as Santorini, Mykonos, Naxos or Paros and experience the authentic greek architecture and the fantastic beaches. The good thing about the Cyclades is that they provide an excellent place for sailing. You can sail around each of the islands or if you'd prefer a longer adventure you can do island hopping in the area. You definitely won't regret your decision.
Crete
Crete is the largest Greek island located in the Mediterranean Sea that receives thousands of tourists each season. The island is well famous for its wonderful beaches and unique ancient historical sites. Moreover, it's not only famous for its ancient culture and breathtaking environment, but also for the well-famous Greek gastronomy.
One of the many beautiful regions in Crete is the city of Chania, where there are numerous activities for every type of travellers. This includes the famous national park that covers majority of the whole region and some stunning beaches. This is definitely among the must see places to visit in Greece.
Zakynthos
Zakynthos is a small island located in the Ionian Sea. This island is a true paradise for sailing as it has numerous breathtaking beaches and hidden spots to discover. One of the most popular beaches that is only reachable by boat is the Navagio Beach.
The stunning views, the imposant cliffs, the sandy beaches and the crystal clear waters makes this island a must see destination. Don't forget to bring your snorkeling gear as Zakynthos has plenty of beaches where you can admire the wildlife.
Corfu
Corfu is an island located northwest to the mainland in the Ionian Sea. It is said to be one of the greenest Greek island that results in wonderful natural landscapes. Moreover, the island has strong ancient culture, home to various UNESCO listed sites and plenty of beautiful beaches. No wonders it's among the top places to visit in Greece.
Rhodes
Rhodes is the capital and also the biggest of the Dodecanese islands. It is famous for its infinite amount of stunning beaches. However, Rhodes is not only an excellent choice for those who like to relax on beaches but for other types of travellers too. The island is rich in rich in acient history of Greece and many other natural wonders. You will be able to organize excellent hikes and sightseeing tours there. As being an ancient part of Europe, it has a nice blend of different cultures in one place.
We highly recommend renting a boat in Rhodes to explore the hidden beauties of the island. You won't be disappointed after this magical holiday.