Antigua is located southeast of Puerto Rico in the Caribbean and is one of the two islands that makes up the country of Antigua and Barbuda. It's one of the archipelago's most visited places as it hosts some of the best environments for nautical activities. It is considered a paradise, for any sailor and fisher who sets sail in Antigua. Embark on a sailing route in Antigua between the months of November and May and you will benefit from the trade winds at around 15 knots. Full of beautiful nature, coral reefs and crystal clear waters are not the only assets of the island. There, you will find fantastic landscapes and peaceful harbours with authentic culture and interesting history. Taste some local dishes like Jerk chicken or Ducana which are traditional dumplings or enjoy a glass of rum while watching the beautiful sunset.
Day 1) Jolly Harbour to Five islands harbour
3,9 nautical miles
To begin your sailing itinerary in Antigua, we suggest going for a Yacht Charter Jolly Harbour. The marina is located on the west side of the island and its surroundings make for a perfect starting point. Make sure you prepare for anything you need for the next couple of days of sailing. When you're ready, sail north to the next bay area towards the Five islands harbour. After you anchor, get a first glimpse of the scenery by relaxing on the deck, and then you can get to the beach and enjoy the sunset.
Day 2) Five islands harbour to Five islands village
3,5 nautical miles
The five islands village is one of the most picturesque places to go on a sailing route in Antigua. A nice place to stay is in the Deep Bay where you will easily be able to anchor in front of the beach. To appreciate the view, you can hike up the mountain to Fort Barrington all the way back to Galley heights. Before heading back to your boat, you could go for a snorkelling session at Galley beach to spot different species of marine life!
Day 3) Five islands village to Dickenson Bay
3,5 nautical miles
Wake up early enough the next morning for a day full of activities! In the morning go for another diving session to appreciate the bay before heading to St John's. There you'll spot the Andes Shipwreck that makes a great ecosystem for sealife! Then, embark and head to St John's where you can go shopping and have a local dish before setting sail again to anchor in Dickenson Bay.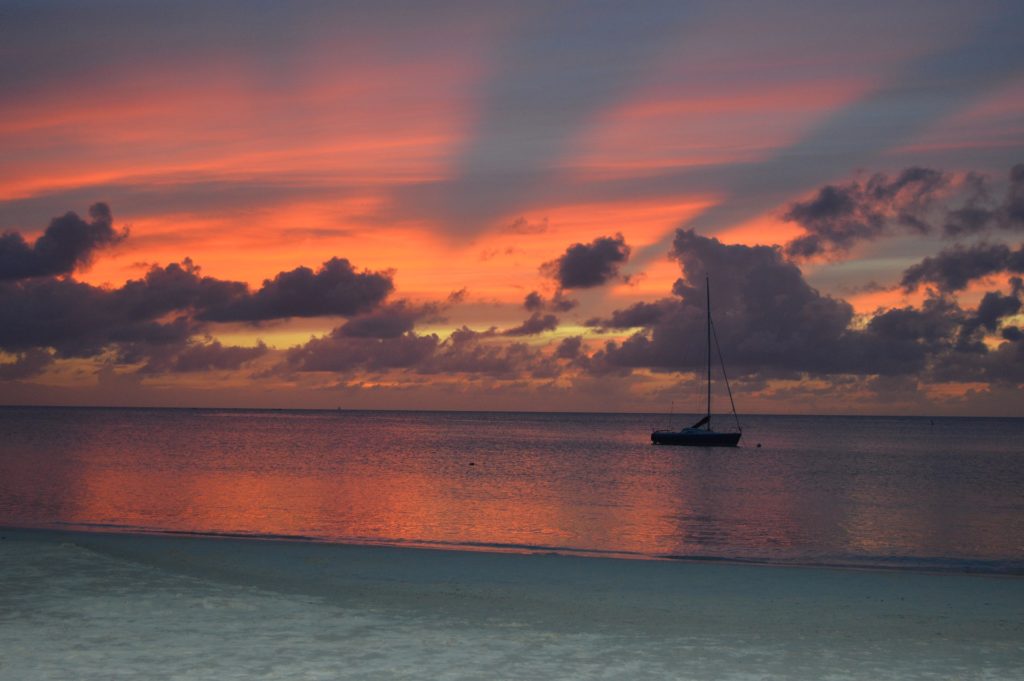 Day 4) Dickenson Bay to North Sound
15 nautical miles
Once again, set off early in the morning towards North Sound. A little bit further than Long island, stop to have lunch at Great Bird Island. This place is magical and the turquoise water will make you want to swim and explore the colourful reefs for an entire day. You can also spot different species of birds and just enjoy the sunshine if you prefer. To spend the night, you can anchor at Long island.
Day 5) North Sound to Nonsuch Bay
7 nautical miles
Navigate south to Nonsuch Bay where you will have plenty of time to clear your mind and replenish your energy for the rest of the adventure! Palm trees, crystal clear water and thin white send make this place full of Caribbean charm. Nonsuch Bay is a remote and secluded area in Antigua where you will be left unbothered. This means it's also more difficult to find shops, bars and restaurants in this location.
Day 6) Nonsuch Bay to Freeman's Bay
9,3 nautical miles
On the second to last day. Sail to English harbour at the south of the island. Once you arrive, drop anchor in Freeman's Bay right next to the town and hike up to Shirley heights. This is one of the most famous pictures in Antigua and by far the best view of English Harbour and its surroundings. It's also interesting to learn about the history of this landmark as it once served as a military lookout.
Day 7) Freeman's Bay to Jolly Harbour
14,5 nautical miles
This is your last day for your sailing route in Antigua. Make the most out of it by waking up early to spend a full day exploring the southern part of the island. On your way back to Jolly harbour, stop in Carlisle Bay and appreciate the wilderness of the area. Inbetween small mountains, rainforests and water that looks clear as crystal, it's a paradise to spend your last moments on your yacht charter.
Before the end of the day, sail back to the point of departure to Jolly Harbour and proceed with the checkout. There you have it! The best sailing itinerary to explore the perks of Antigua!
If you liked this sailing route in Antigua you might also want to check out our itineraries in other Caribbean destinations!