Barcelona is located in the Catalonia region of Spain on the coast of the Mediterranean sea. The city is well-known for its historical sites, museums and excellent local food. Moreover, the Barcelona clubs and nightlife.
Barcelona is not only an ideal detination for sightseeing but also an excellent choice for sailing! Sailing in Barcelona is a charming experience as it has perfect sailing conditions. It has good climate, excellent sea and a beautiful coastline. initely a city that worth visiting!
We highly recommend wandering around Barcelona to discover the beauty of the city before you go on this 7 days Barcelona itinerary. Rent a boat in Barcelona and enjoy this amazing experience!
Day 1: Barcelona → Lloret de Mar 
35.3 nautical miles, 5 hours of sailing
The idea is to leave the port Port Olímpic in Barcelona and sail towards Lloret del Mar, where you will be able to enjoy the 5 beaches of fine and white sand. The bay of Lloret de Mar does not offer any protection for boats, so we advise you to anchor only when the weather is good.
You will fall in love with this place. What's good about Lloret de Mar? Enjoy the bars and restaurants to discover the special Spanish nights.
Also, you can't miss the Santa Clotilde Gardens, located on a cliff and with a spectacular view of the sea and the Costa Brava. It is a romantic garden in an ancient style.
Day 2: Lloret de Mar→ L'Estartit  
30.8 nautical miles, 4 hours 20 minutes of sailing
The next day, head towards L'Estartit, along the Spanish coast. Enjoy the rich sea bed of the Medas Islands. This archipelago of wild islands will charm you with its aquatic wildlife.
Numerous anchorages (more than 700 and 380 rental moorings) around the Medes Islands are accessible to boats. In addition, if you are a diving enthusiast, you are at the perfect place as it's one of the main activities of the village.
Day 3: L'Estartit→ Cadaqués
15.1 nautical miles, 3 hours of sailing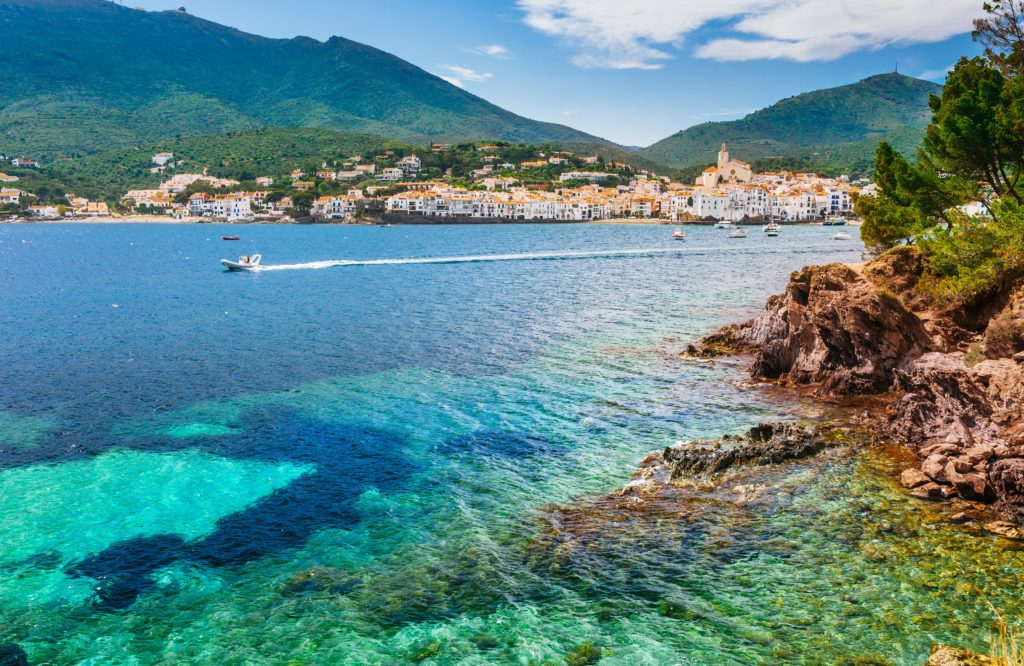 The next day, set a northerly direction along the Costa Brava towards Cadaques. Anchor the boat at the natural park so you can safely disembark and take a walk to Cap Creus. Cap Creus is a small fishing village that offers several art museums that are worth discovering.
Day 4: Cadaqués→ Llafranc
24.7 nautical miles, 3.5 hours of sailing
Leave early in the morning and head towards Llafranc. Take advantage of the calmness of Llafranc to relax on the beach or to go on a walk to the small marina nearby. Above all, enjoy the real Spanish culture during this picturesque stopover.
If you want to discover a place that will blow your mind, you should go to the Lighthouse of Sant Sebastià. It is located at the top of a small mountain you can enjoy panoramic views over the beach of Llafranc.
Day 5: Llafranc→ Sant Feliu
11.1 nautical miles, 2 hours 15 minutes of sailing
Start the journey back to Barcelona with a stop at the port of Sant Feliu, a small and charming port. The port gives access to beautiful beaches surrounded by turquoise water. Furthermore, the port is known for its Porta Ferrada music festival.
Moreover, if you are looking to snorkel or dive and enjoy this natural environment, we recommend the beaches of Sant Feliu de Guíxols, with a depth of between 2 and 40 metres. You can make a stop at one of these fantastic beaches; Cala d'es Cranc, Cala dels Mussols and Cala del Peix. In Cala del Molí, you can find the only European Via Ferrata that goes over the sea. No matter which one of these beaches you choose, you won't be disappointed.
Day 6: Sant Feliu→ Barcelona
45.5 nautical miles, 6.5 hours of sailing
Head back towards Barcelona. This last section is 30 miles long, the perfect opportunity to take one last look at the stunning Costa Brava coastline.