In order to best discover the islands in the Seychelles, we created an ideal one week itinerary. Composed of 115 islands, the Seychelles archipelago is the perfect place to sail and explore little bits of paradise. With or without skipper, yacht charter from Seychelles and spend 7 days on a catamaran and sail from island to island, from Mahé to Praslin via La Digue.
Practical Information
This cruise is ideal for diving and exploring heavenly destinations. The islands of the Seychelles are accessible all year round, thanks to a warm tropical climate that offers a temperature of about 30° during the day. Nights are spent at anchorages, which are easy and pleasant.
Two great seasons follow one another in the Seychelles: the NW monsoon, with light winds, and the SE monsoon, which offers stronger winds, sometimes up to 20 knots, which are more favorable for sailing. We advise you to leave between March and October for a cruise on a liveable catamaran or sailing boat.
Day 1 : Mahé → Praslin
Your cruise starts from Victoria, on the island of Mahé. You will take possession of your sailboat or catamaran. Once your check in is done, we advise you to cast off in the direction of Praslin.
With its two UNESCO World Heritage sites, this island offers you a breathtaking spectacle. Discover the Vallée de Mai, covered in palm trees and coconut palms. The island of Praslin also has some of the most beautiful beaches in the world, such as Anse Lazio and Anse Georgette.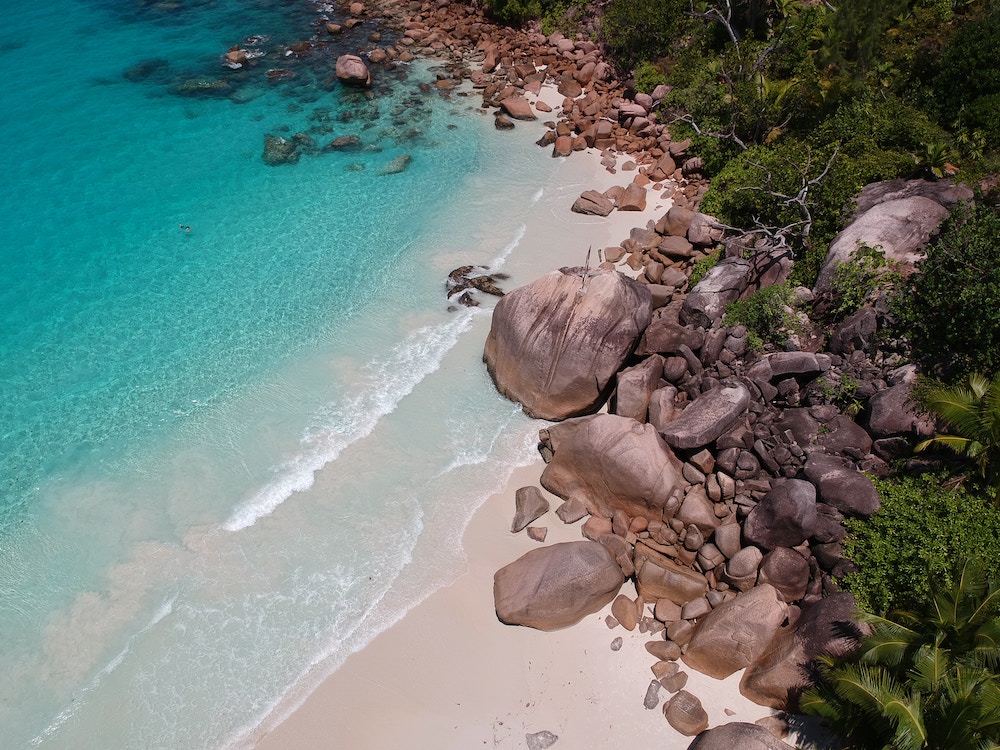 Day 2 : Praslin → La Digue (6 nautical miles)
Second day of sailing, set sail for La Digue, the smallest island in the Seychelles archipelago. Here you will discover the authentic charm of the Caribbean. Take advantage of this day to discover nature, giant turtles and the 250 or so species of birds that nest there, before spending the night at anchor.
Day 3 : La Digue → Curieuse (7 nautical miles)
On the third day of cruising, we set course for Curieuse Island, known for its lush nature and numerous protected animal species. You will be able to admire the Sea Coconut Palms and the Seychelles giant turtles all day long, and trust us, you won't get tired of it!
Day 4 : Curieuse → Saint Pierre → Curieuse (6 nautical miles)
From the Curieuse Island, sail towards the island of Saint Pierre. This small island is the ideal place to go diving and enjoy the calm of nature. Only a few nautical miles away, you can return to Curieuse to spend the night.
Day 5 : Curieuse → Aride → Curieuse (12 nautical miles)
Day five of sailing, the fifth paradise to discover: Aride Island, 12 nautical miles from Curieuse Island. Don't be fooled by its name, the Aride Island contains an amazing paradise and a green nature inhabited by many species of multicolored birds. However, you will not be able to spend the night there, you will have to anchor again in Curieuse.
Day 6 : Curieuse → Cousin → Praslin (15 nautical miles)
Leave one paradise to discover another. A true nature reserve, Cousin Island is home to many protected species of birds, which you can observe on certain days. You can return to the island of Praslin for the night and anchor in the bay of Sainte Anne.
Day 7 : Praslin→ Mahé
Last day of the cruise, it's time to return to the island of Mahé. We advise you to leave early in the morning to be able to visit Mahé once the inventory of your boat is finished. There are so many things to do to end your cruise in the Seychelles in style: visit Victoria, stroll along the beaches of the island, or relax over dinner at sunset.