Overview of Crete
Crete is the largest among Greek islands and the fifth largest island in Europe located in the south of Greece mainland right in the middle of the Mediterranean Sea. Crete is regarded as a diverse and vibrant land, especially known for the ancient ruins, bustling cities and breathtaking beaches. Crete has temperate Mediterranean climate often with mild and rainy winters, and hot and dry summers. The peak tourist season in Crete is usually from June to September, particularly in July and August during summer holidays. The off season is between October and Mars when it gets cold in winter. Samboat recommends you better to navigate in Crete in June and September with less tourists flow and joyful weather conditions. Chartering a boat in Crete will definitely fulfill a wonderful vacation for you.
Places can't be missed in Crete
Santorini is a place must go in Greece, smaller island than Crete closer to mainland of Greece. Santorini is regarded as the treasure of Greece, famous for its special architecture style and beautiful beaches all over the world. Santorini is full of Greek styled houses in blue and white resembled the sky and sea showing its romance to visitors. If you are staying in Crete Island, you are totally able to visit Santorini during a day by boat. It only takes 2 hours of navigating from Crete to Santorini.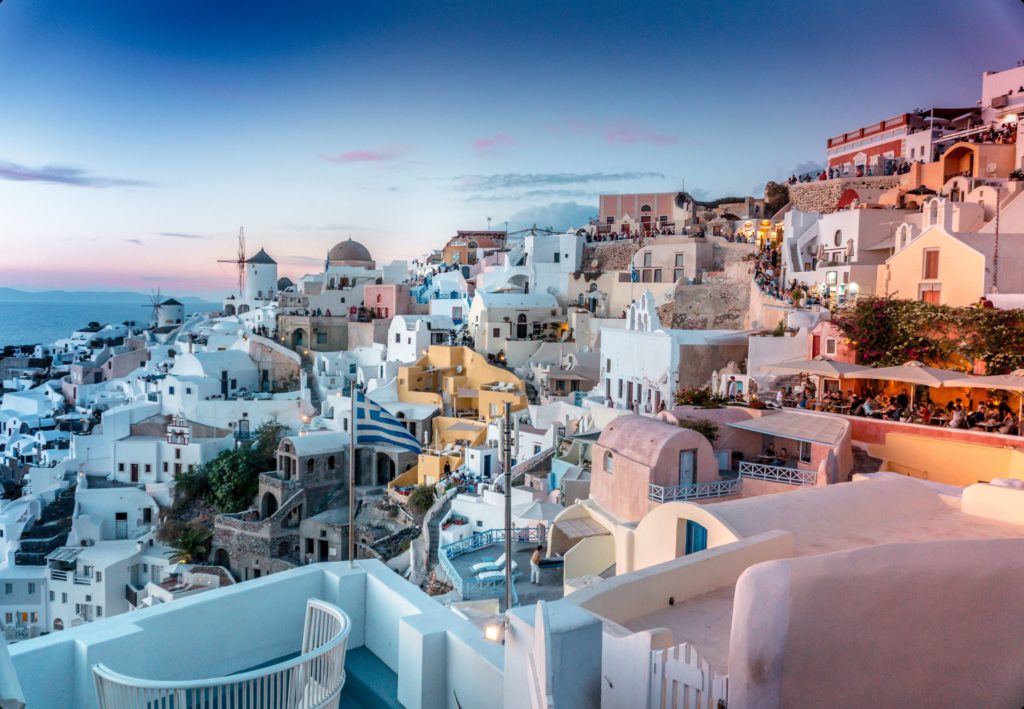 Heraklion as the capital city of the island is a must to visit by boat when in Crete. It's not only a port but also a city known for the oldest European known civilization with many historic monuments dating back thousands of years to the Minoan civilization. Minoan Palace of Knossos and Heraklion Archaeological Museum are two top sites to visit in Heraklion for art. Navigating around Heraklion is always a good way to explore its historic treasures.
Chania is situated on the northwest coast of Crete Island. And it is definitely worth a visit by boat when you are on vacations in Crete. Chania is famous for historical sites mixed with different architecture styles. There are the 14th-century Venetian harbor, 16th-century harbor entrance influenced by Venetian, Egyptian and Ottoman. Chania is also an old town full of narrow winding alleys and waterfront restaurants.
Rethimno is located on the north coast of Crete Island. The city possesses several historic landmarks for you to visit such as its Venetian harbor in old town, Rethimno Lighthouse and hilltop Fortezza shaped as a star. The stunning sandy beach in Rethimno will no doubt you offer you a good mood by sailing there. Rethimno is situated in the middle of Chania and Heraklion, Samboat recommends you better to visit these three cities one by one.
Glyka Nera Beach is also called Sweetwater beach in English, located in the south of Crete Island. It's a beach you can't miss while staying in Crete. It's a beach with incredible color of the water and with amazing sheer cliff around. You can absolutely go there by boat to get a sunbath with stunning views and to swim in the a mazing water for an afternoon. On the way sailing there, you will also capture the beautiful coast of Crete Island.
How much it costs to charter a boat in Crete?
As Crete is becoming a more and more popular tourist destination in Europe, the price of boat rental has been raised up a little due to high demand. However, compared to most of other hot sailing destinations in Europe, Crete still can save you a lot of expenses for navigating there during vacations. In peak tourist season, renting a sailboat costs 600 euros on average per day. When it comes to off season, the average boat rental price goes down to 400 euros a day.
With Samboat, you can navigate anywhere you want in Crete and Greece.