For a 7 day itinerary, we suggest that you go sailing in the archipelago of Canarreos in the south of Cuba in the Caribbean, you could start your trip by renting a boat with SamBoat in Cienfuegos. This archipelago is composed of cays and small islands with fantastic landscapes, ideal to explore by hiring a boat. Moreover, you will not be disappointed by its climate with warm weather and lots of sunshine. 
DAY 1 – Visit of Cienfuegos
Southeast of Havana is the city of Cienfuegos. One of the largest and most recent cities in Cuba. Listed as a UNESCO heritage site, it has amazing architecture inspired by french artists, this is due to the arrival of french immigrants who brought this city to life. For historical buildings, you can visit the Cathedral of Nuestra Señora de la Purísima Concepción and the fortress of Nuestra Señora de los Ángeles de Jagua, both built in the 18th century. To admire the most beautiful houses of Cienfuegos, we suggest that you go to the Paseo del Prado avenue and to Punta Gorda.
Popular with boaters, the marina of Cienfuegos is very well sheltered from the wind; only anchoring is allowed. We advise you to familiarise yourself with your sailboat or catamaran before starting the second day. 
DAY 2 – Heading for Caya Guano del Este
54 nautical miles, 13 hours 30 of sailing
It is time to reach the archipelago of Los Canarreos towards Caya Guano located at 54 nautical miles; you will recognize this cay by its large lighthouse, still working. Once your boat is anchored, equip yourself with masks and snorkels. Its crystal clear water is a non refusable invitation to snorkel or dive.
DAY 3 – Direction Cayo Largo
7 nautical miles, 2 hours of navigation
Head for Caya Largo at 7 nautical miles, an island 25 km long and 3 km wide, paradisiacal and perfect for tourists. You can anchor near Playa Sirena, or further north at the small marina of Cayo Largo, formerly called Marina Puerto Sol, with pontoons. The island has white sandy beaches and turquoise waters: a real treat to relax or do some watersport activities. You will be able to see turtles and iguanas walking on the island. In addition to Playa Sirena, Playa Mal Tiempo and Playa Paraiso are also worth a visit. Be sure to stock up on supplies before leaving for Cayo Rico.
DAY 4 – Cayo Largo / Cayo Rico round trip
27 nautical miles, 7 hours of navigation
Another little piece of paradise: Cayo Rico. On the stretches of sandy beaches, activities such as diving and fishing are also recommended on this island. Note that the water supply in Cayo Rico is limited.
Each time you return to Cayo Largo, you must go to the marina for customs formalities. You will have to check everything at this place, especially when returning to Cayo Largo from Cayo Rico, and also at the next one before leaving for Cayo Rosario. In total, it will be 27 nautical miles to cover for this day. 
DAY 5 – Cayo Largo / Cayo Rosario and back
9 nautical miles, 2 hours 30 of navigation
Another round trip for this day of navigation, to Cayo Rosario. In addition to its beautiful sandy beaches, the most incredible thing is the sea bed.
We advise you to walk around the pretty markets that are there. You will be able to taste some of the specialties of the island. With only 9 nautical miles for this day, take the time to enjoy this island with a relaxing vibe.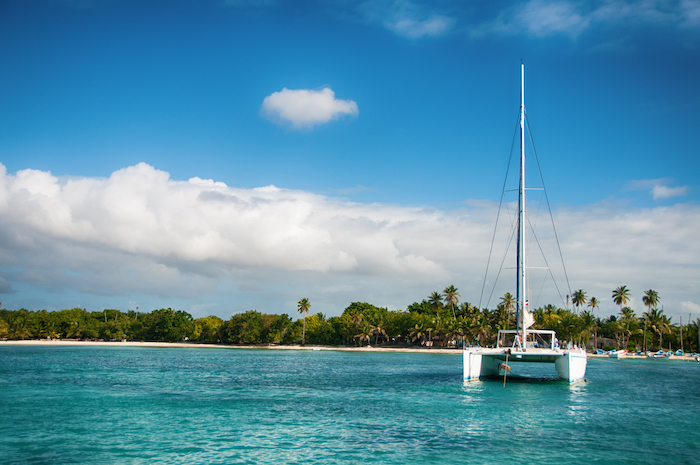 DAY 6 – To Punta del Este
22 nautical miles, 5 hours of sailing
On the 6th day, head for Isla de la Juventud, the largest of the 600 islands of the Canarreos, 22 nautical miles to the east. You will arrive in Punta del Este, in its national park called Parque Nacional Marino de Punta Frances.
With a sandy beach that stretches for 3 kilometres, its coral reef, its fauna and flora, it's mesmerising sceneries that you'll find there! Some consider it to be the most beautiful scuba diving site in the Caribbean. 
DAY 7 – Return to Cienfuegos
About 32 nautical miles, 8 hours of navigation
Your cruise is coming to an end! It is time to return to Cuba. This day will be dedicated to sailing back to Cienfuegos; the trip will take about 8 hours. You will be free to stop in nearby islands if you are feeling curious on the way back. The caribbeans are full of great boating itineraries, maybe next time you could go on a 15 day sailing adventure in the Bahamas!
🍃 By doing this itinerary entirely by sail you will travel 243 km and save 22 litres of fuel.