Porto Vecchio, or Portivechju in Corsican, is a destination dedicated to relaxation and water sports. The region has many beaches and coves, and is a citadel that hosts many festivals, a picturesque old town and a lively marina. Embark on a magnificent cruise in the south of Corsica, starting from Porto-Vecchio or rent a boat in Bonifacio, and discover the surrounding islands and secluded coves by sailboat or motorboat.
Day 1: Porto-Vecchio → Rondinara
15 nautical miles = 3 hours of sailing
Before getting on board your sailing boat or catamaran, take time to wander around the old town of Porto-Vecchio to admire the citadel. Stroll down the alleys to Place de la République. Take advantage of this time to prepare your week's cruise in Corsica, and perhaps shop for your supplies, particularly fresh produce.
After having a look at the boat, head to the bay of Rondinara, voted the most beautiful beach in France on several occasions. It offers an exceptional setting for a wild anchorage and is less frequented as it is difficult to access without a boat. After your first day out at sea, spend this first night on board.
Day 2: Rondinara → Lavezzi Islands
10 nautical miles = 2 hours of sailing
After the first night, set sail for the Lavezzi Islands. The navigation will last about three hours. You can visit the islands and choose the best spot for lunch. Afterwards, we advise you to sail into the lagoon of Sperone for a swimming break. The water is turquoise and the sand very fine, which is not so common in Corsica. The beaches offer beautiful views of the Lavezzi Islands and even Sardinia on a clear day. The Grand Sperone beach is a perfect spot for swimming and snorkelling, especially on the western side.
Day 3: Lavezzi Islands → Maddalena
10 nautical miles = 2 hours of sailing
From the Lavezzi Islands, head for Italy! To the north-east of Sardinia is the Maddalena archipelago, made up of the Budelli, Razzoli, Santa Maria and Spargi islands. It takes about two hours to reach the first island and another two hours to reach the Maddalena. No matter which itinerary you choose, these islands are all equally charming. We recommend arriving at the Maddalena around 6pm, as it is very lively. You can have dinner ashore and spend your first night at port.
Day 4: Maddalena → Roccapina
25 nautical miles = 5 hours of sailing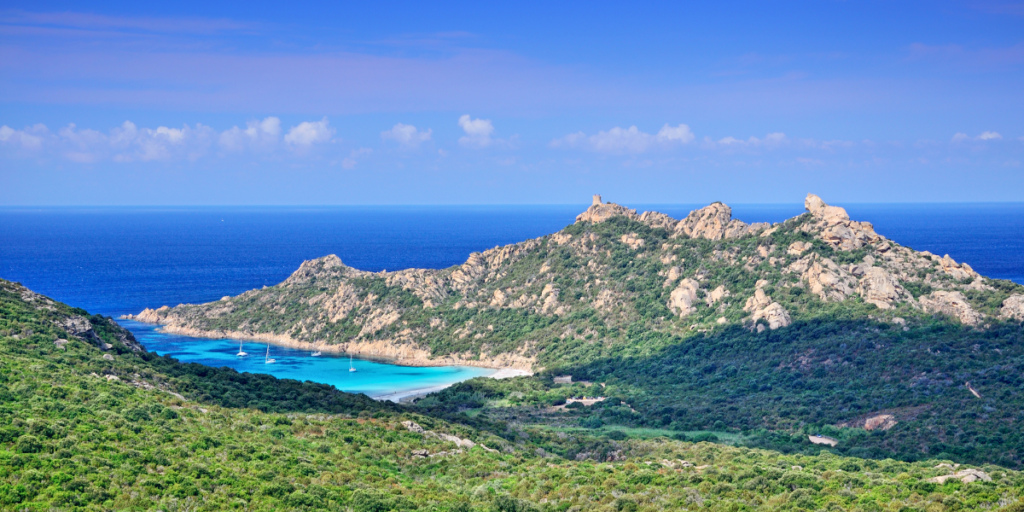 Hoist the sails in the morning and head to the far south of Corsica, passing through the Bouches de Bonifacio. Between the archipelago, sea, caves and citadels, you will be amazed! At the end of the day, we advise you to sail towards the West Coast and to spend the night in Roccapina in a dreamy anchorage. This heavenly place is relatively difficult to find and also to access without a boat, so you can enjoy a quiet moment without a crowd of tourists.
Day 5: Roccapina → Bonifacio
13 nautical miles = 2 hours 45 minutes of sailing
On this fifth day of sailing, head for Bonifacio. An exceptional panorama awaits. From the blue of the sea, to the high cliffs with its coloured houses, you will set sight on this small corner of paradise. In addition, you can visit many beautiful open-air caves, the Fazzio creeks and the King Aragon steps. For hiking enthusiasts and nature lovers, walk to the Purcaraccia and Polischellu waterfalls. You can enjoy a lazy day between sunbathing, swimming and wonderful memories!
Day 6: Bonifacio → Santa Giulia
20 nautical miles = 4 hours of sailing
It's time to return to base after this 7-day sailing route. For the return journey, we advise you to divide the trip in 2.
Take it easy, enjoy the sun on the front trampoline and for this last stopover, and anchor in one of the most beautiful bays in the south, Santa Giulia.
Day 7: Santa Giulia → Porto Vecchio
12 nautical miles = 2.5 hours of sailing
Take your time and enjoy the last moments in Corsica with breathtaking landscapes. It's time to go to your departure port to return your charter boat and proceed with the administrative formalities.
If you want to discover Porto Vecchio and its surroundings for half a day or a whole day, discover our dream itinerary for a day by boat from Porto Vecchio.