Zakynthos dayboat route
Zakynthos is one of the most popular islands in Greece because of its sheer nature and dramatic landscapes. Its beautiful shipwrecked beach with turquoise water creates an incredible picture that often comes up on Instagram feeds and posters. The cliffs surrounding the island are breathtaking, and some adrenaline seekers enjoy base jumping from them making this place even more exciting! With an amazing coastline full of beautiful spots, the island is more than just one dazzling beach, Zakynthos is also full of other wonders and hidden gems!
In this Zakynthos dayboat route, we make sure to list the best places for an incredible day in the north or the south of the island.
North of Zakynthos
1/Agios Nikolaos
The best way to visit the north of the island is to rent a boat in Agios Nikolaos. It's a small and quiet town but also beautiful and charming. In the morning, enjoy walking around and having something to eat before leaving. Try to set out early enough to fully enjoy the beauty of northern Zakynthos.
2/ Agios Nikolaos → Blue caves and hidden beaches
1,7 nautical miles, 7 minutes of navigation
Instead of going straight to the Navagio shipwreck (which is the main attraction on Zakynthos), we recommend stopping by a few other gorgeous spots. A little bit north, visit the blue caves, these rock formations are unique and will leave you in awe. You can then wander around the northern coast by finding secluded coves or beaches to relax.
3/Blue caves → Navagio shipwreck
6,84 nautical miles, 27 minutes of navigation
This is the hotspot on the island. Many visitors are attracted to Zakynthos because of the popular photos taken on this beach. The turquoise colour of the water will make you want to jump and spend your time in it. Be sure to take a moment to enjoy the beauty surrounding you and relax on the sandy shore. If you have more energy, hike up the cliffs and contemplate the amazing view from above.
4/Navagio → Skinari
6,5 nautical miles, 26 minutes of sailing
After spending a good amount of time in Navagio sail back east and stop in Skinari. It's the northernmost point of the island. It's located above the blue caves and it's definitely worth your visit. You'll see a lighthouse, old windmills, and you'll be able to appreciate the astonishing view of the area! If you feel a little hungry, have something to eat and a drink at the nearby taverna.
5/Sail back to Agios Nikolaos
2,1 nautical miles, 8 minutes of navigation
As the sun is slowly setting, it's time to head back to Agios Nikolaos and proceed with the checkout. You can then appreciate the sunset from a terrasse in town. Take the opportunity to dine at a local restaurant and try some local specialities.
South of Zakynthos
1/Start off in Agios Sostis
We suggest going for a Boat rental Agios Sostis on the south of the island. It's a beautiful village with a charming harbour. To make the most out of your day boat excursion, it's better to start early in the morning.
2/Agios Sostis → Cameo island
Head to Cameo island, there is a wooden footbridge that relates the island to the mainland which makes it very accessible. Anchor on the other side of the island and go for a quick swim before departing to the next spot, the water is transparent and it's better than a coffee to get you started!
3/Cameo Island → Coast of Keri
8 nautical miles, 32 minutes of navigation
The next spot on your Zakynthos dayboat route is Keri. This place is located southwest of the island and its shores constitute cliffs, caves and small islets. It's also the ideal place for your lunch break, you'll find a couple of restaurants and cafes in the town. Replenish your energy levels and head to the viewpoint of Myzithres before passing between the islets and visiting the caves of Keri.
4/Keri → Marathonisi
5,36 nautical miles, 21 minutes of sailing
Be sure to check out Marathonisi. It's a small islet with beautiful beaches, caves and vibrant sea life. This place is home to loggerhead turtles in the breeding season from May to October, as they lay their eggs on the beach. You could be lucky enough to swim with these fascinating animals. Beware that these turtles are endangered, so make sure to never leave any trash behind you!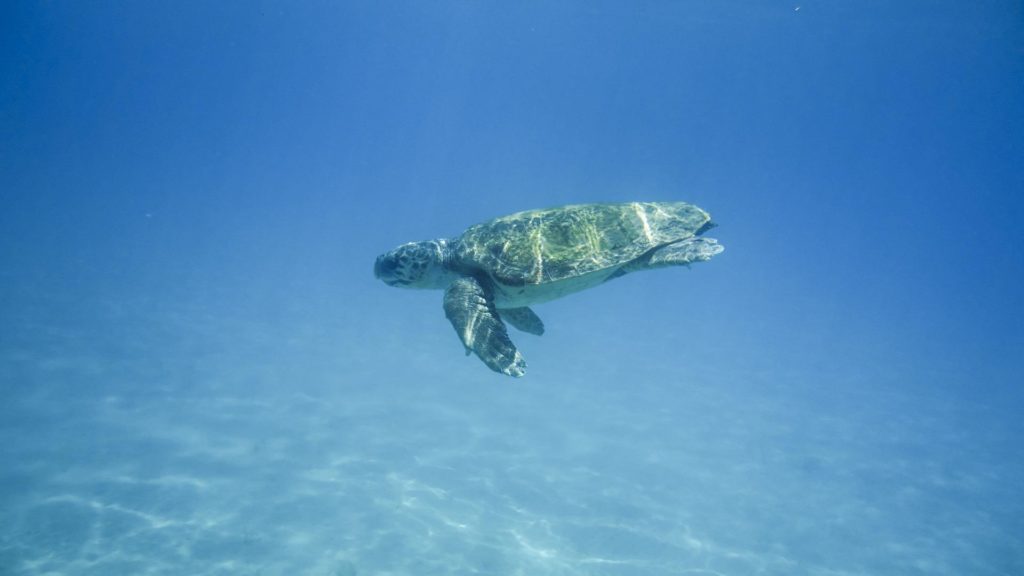 5/Head back to Agios Sostis
2,5 nautical miles, 10 minutes of navigation
If you have followed through on this Zakynthos route, you've already done quite a bit of the island! It's time for you to enjoy a relaxing evening back in Agios Sostis. Dock in the marina and go appreciate local Greek food and specialities.
There you have it, the perfect day trip on a boat in Zakynthos. It's one of the best islands in Greece and you will surely have an exciting day whether you spend it in the north or south of the island!

If you liked this Zakynthos dayboat route but you intend to stay for a longer period on the island, you might be interested in our 7-day itinerary in Zakynthos.